18 Aug

[Podcast] Interview with Bob Russell: 50 Years of Going Outside

Today on the show, we sit down with author and pastor, Bob Russell.

Bob led one of the largest churches in North America for 40 years and has authored many books, including his most recent title, 7 Things I'd Do Differently and 7 Things I'd Do the Same, as well as one of my favorite books in my personal library, Transition Plan.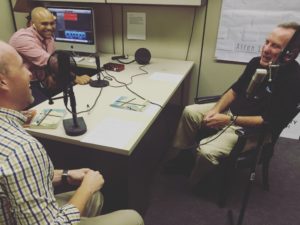 Bob gives a transparent look into the life of a leader and the potential pitfalls that we may face – such as pride and a lack of faith and integrity. In humility, Bob tells story after story of how he learned lessons throughout his ministry and personal life.
As a church planter, I will tell you that this particular podcast is one that I think every single person in ministry (or thinking of going into ministry) should listen to. Several times. And if you're not in ministry, you should listen too. Rachel and Phillip were in the room during the interview and we were all blown away with the quality of the advice and wisdom shared.
Thank you to Philip Devine for helping us accomplish this podcast with your technical expertise and general awesomeness. And thank you to my wife, Rachel, for snapping a few pics and videos. Most of all, thank you to Bob for coming out to Shelbyville to hang with us.
Check out Bob's Web weekly blog to hear more of his heart and insight.